You can go twice as high: factors that influence donations
July 21, 2014
Us Canadians donated $10.6 million in 2010, about the same as 2007. That's $445 per person out of all who donated, with an average donation of $116. Not too bad.  
I've been doing some research lately on the act of donating, specifically what factors persuade people to give their money.
Ways to grow: What influences people to give?
A number of things have been shown to influence donations. It may seem common sense that, say, offering people rewards would be persuasive, but what about matching? What other tactics are there?
People's own interest, "what's in it for me". It could be prizes, or just a nice feeling of doing something good. Hey, nothing wrong with that!

Or, telling people what they will lose if they don't donate.

A personal connection with a charity (health, disasters, nature, etc.)

The charity's reputation, the higher the reputation the more likely people are to donate (reputation is built over time, but you can take measures to look and sound more reputable with anything you design).

A celebrity or person of influence is supporting the campaign.

Their friends are also giving. Another study found that awareness had influence, so I think these two go hand in hand in today's social media world.

A lottery or prize (e.g. every dollar enters you in some contest, or offering Kickstarter-type rewards for different dollar amounts).

Showing that there are already donations made (a progress indicator of some sort).

A suggested donation, whether it's literally an ask like "suggested donation is $50" or putting bills in donation jars (we'll touch on this more when I talk about crowdfunding).

Giving donors the choice to opt in or out of future messaging, that is, in a way you're telling them you'll stop bugging them, if that's what they want.

Donation matching (equal matching is fine, higher than 1:1 doesn't have any added effect).

And of course, income – people who have more give more. But who has more money? Generally older people and those who are more educated.
Take a look: Crowdfunding and rewards
Let's talk about the "prize" aspect a bit more. Crowdfunding, like a Kickstarter campaign, is generally used to get funds needed to launch some kind of product or service, be it physical or digital, by going straight to the customers. It's not usually charitable, but there's lessons to be learned, and when you think about it, nails a lot of the factors we just talked about.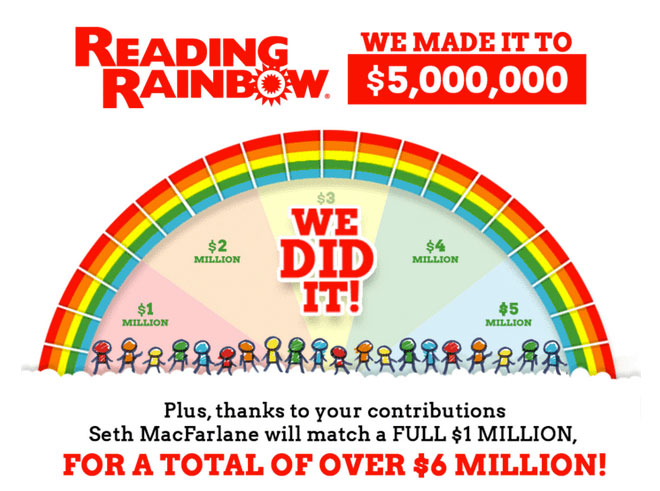 Reading Rainbow isn't necessarily a charity, but when they wanted to re-launch online and give access to thousands of classrooms for free, they turned to the Internet using Kickstarter offering all the Reading Rainbow and Star Trek rewards you could imagine. The huge amount of traction it got out of the gate was remarkable, meeting its $1 million goal in 12 hours. And then it kept going, shooting for $5 million. What's really interesting is the $50 mark. It contributed almost a quarter of the $5 million. In fact, it alone would have contributed the original $1 million goal.
| Level | Backers | Contribution | % Conribution |
| --- | --- | --- | --- |
| $5 | 19,639 | $98,195 | 1.82% |
| $10 | 14,344 | $143,440 | 2.65% |
| $25 | 9,136 | $228,400 | 4.22% |
| $50 | 24,512 | $1,225,600 | 22.66% |
| $75 | 4,957 | $371,775 | 6.87% |
| $100 | 4,359 | $435,900 | 8.06% |
| $200 | 2,065 | $413,000 | 7.64% |
| $500 | 15 | $7,500 | 0.14% |
| $750 | 80 | $60,000 | 1.11% |
| $1,200 | 4 | $4,800 | 0.09% |
| $2,500 | 10 | $25,000 | 0.46% |
| $5,000 | 13 | $65,000 | 1.20% |
| $10,000 | 12 | $120,000 | 2.22% |
(Note: The Reading Rainbow campaign had a ton of reward levels (almost 40) so the table above is just a summary of popular levels, but you get the idea.)
Can you use a crowdfunding model for charitable giving? This model is really changing the way a lot of people raise money. It's less necessary because charities can more easily ask for donations. Though, people seem more used to getting something now. You'd have to think of the logistics and cost of order fulfilment. Even if you had purely digital prizes, there's still cost and time required. But if you thought of a creative campaign that will bring in more cash even after costs, then it would make sense.

Tools like Kickstarter or Indiegogo, can be helpful, but the idea isn't new. You already see lotteries and contests, like the local example of the QEII hospital lottery that's been around forever and is pretty popular.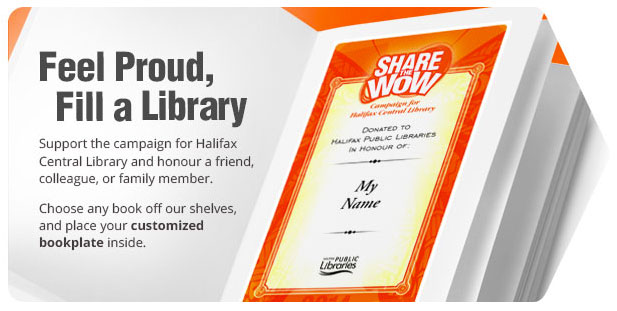 The Halifax Central Library kicked it up a notch with their Share the Wow campaign offering bookplates to stick in your favourite library books with your name on it for each $25 donation. It's a pretty smart idea that doesn't cost very much. There's just something more to it than a flat out donation, more connection with the cause and your life, more value. You get to tell people about your book. Neither of these local examples are exactly Kickstarter-style campaigns, but they use some elements to their benefit. And it's going to be one spiffy library, so go and check that one out.
 Subscribe to my blog via email (it'll be great)

Sources
Statistics Canada, Donors and donations, population aged 15 and over, 2007 and 2010

Freakonomics, How to Raise Money Without Killing a Kitten
University of Chicago, Charitable Giving (several papers by John List)
Robin L. Snipes, Sharon L. Oswald, Innovative Marketing, Charitable giving to not-for-profit organizations: factors affecting donations to non-profit organizations
CBC News, Andre Mayer, Charitable giving: How emotion, peer pressure influence donations
Katherine Grace Carman, Harvard University, Social Influences and the Designation of Charitable Contributions: Evidence from the Workplace
99U, Todd Anderson, Kicking Ass & Taking Donations: 9 Tips on Funding Your Kickstarter Project